HOW TO LOVE MANY
IN MANY WAYS

2021
(ongoing)

A collection of games & exercises


initiated together with
Engy Moshen
and with contributions by
Eliana Otta
,
Ingo Niermann
(
The Army of Love
),
Mohamed Al-Bakeri
,
Nada Elkalaawy
,
Petra Mrša
,
Rania Atef
,
Raúl Hott
,
Shahd Omar
,
Soukaina Joual
Psychologists Arthur and Elaine Aron used 36 questions to explore whether intimacy between two strangers can occur intentionally. Based on the assumption that something we call 'love' can be produced willingly, artists Engy Mohsen and Gabriel Hensche developed a set of 36 rituals to fall in love with oneself, a group and non-human beings. Furthermore, they invited 9 other artists and writers to develop an exercise or a game that responds to the question: How to Love Many in Many Ways?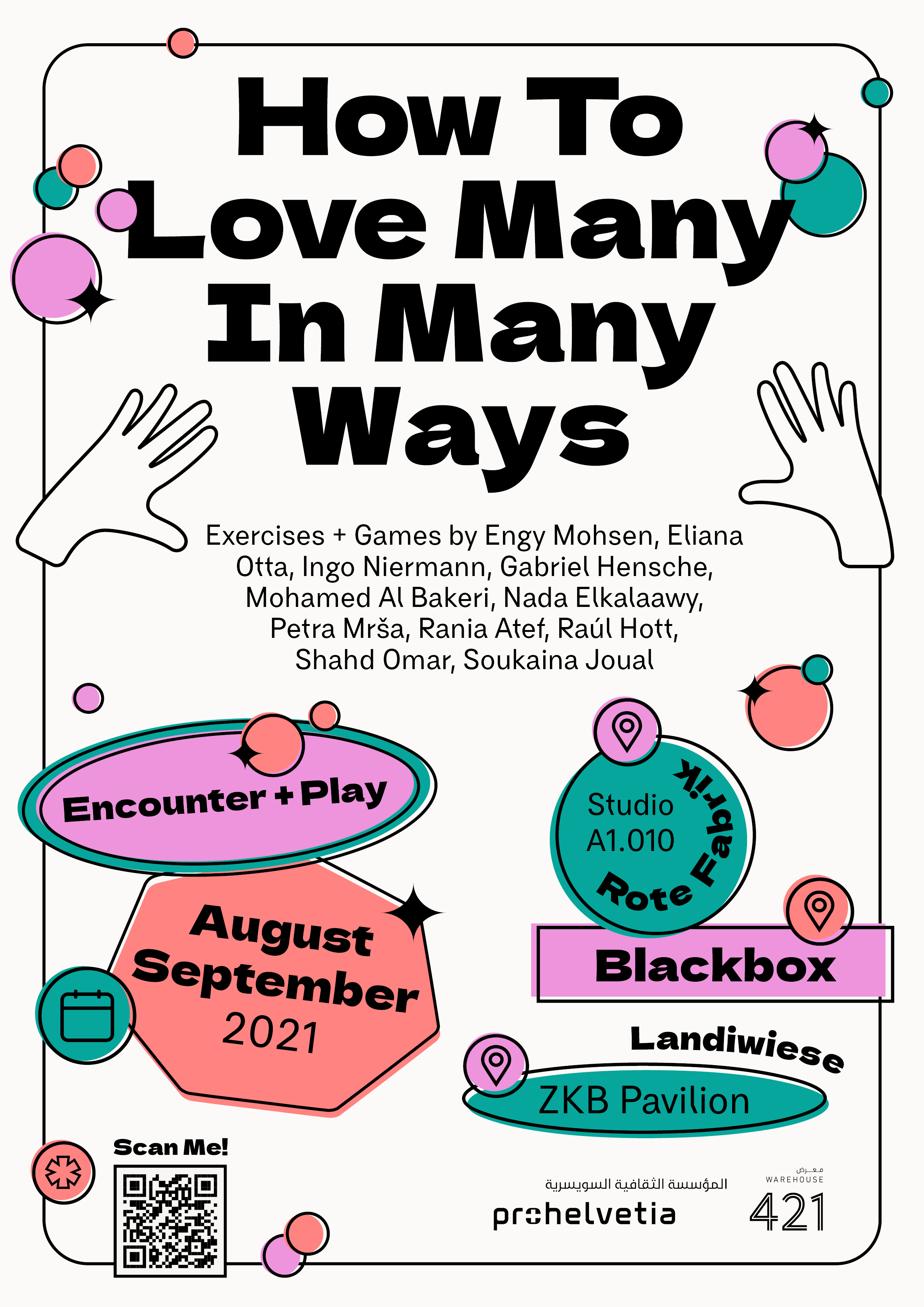 Design by Engy Moshen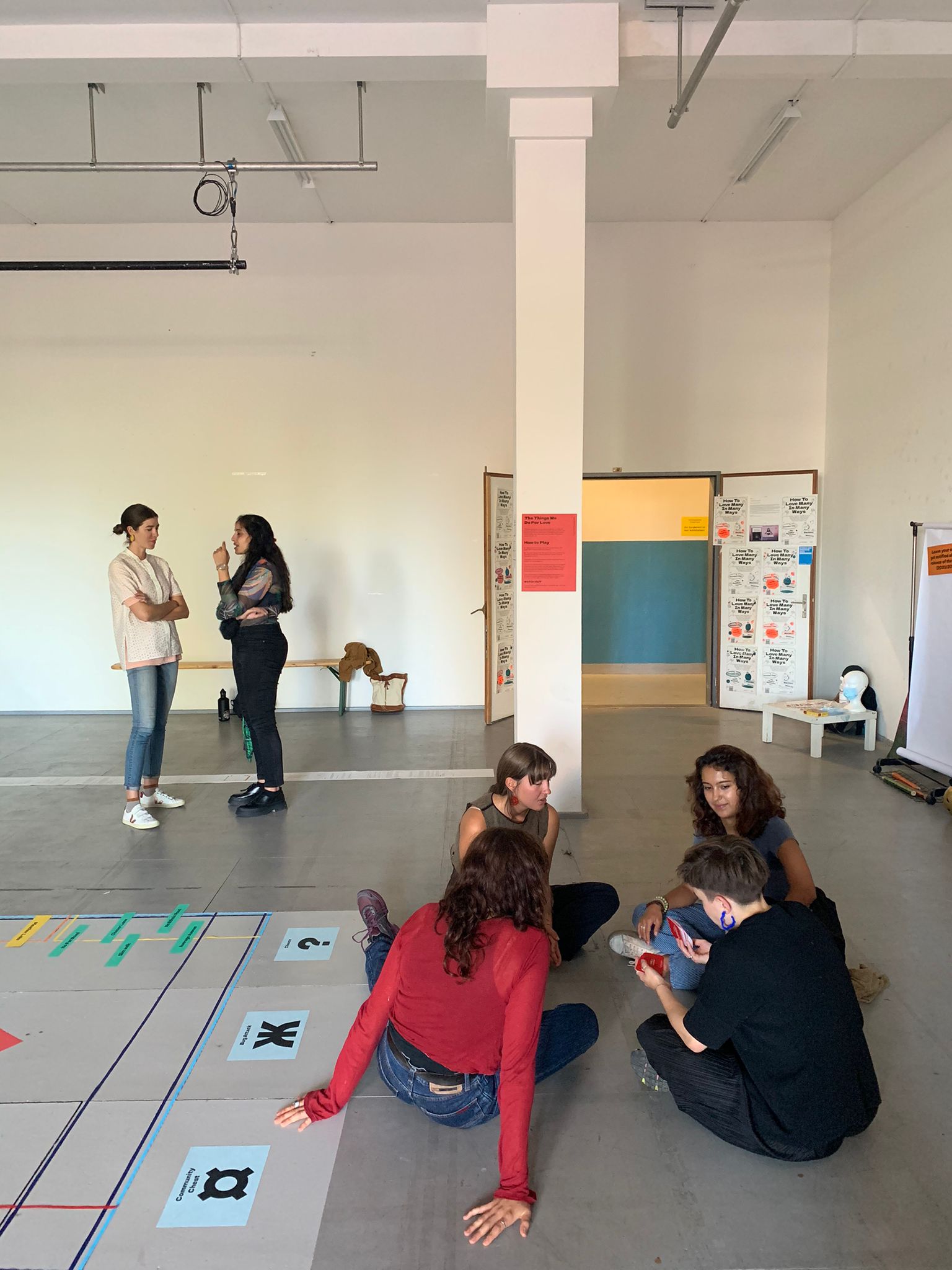 First workshops took place during Engy Moshen's residency at Rote Fabrik, Zurich (CH) in summer 2021.


The project takes off from a set of questions based on the claim that you can intentionally perform falling in love (and subsequently fall out of love as well). Yet, because we share a ground belief that this question can only be addressed collectively, we invited others to develop an exercise/game responding to the question: How to Love Many in Many Ways?

Nine contributors responded to that question. Coming from diverse disciplines and backgrounds, their responses range from the artistic, to the scientific, the somatic and the satirical:

● "How to Love Many in Many Ways" is a set of questions paired with rituals that invite you to start from loving and caring for the self, connecting with others, and being more attentive to more-than-humans in your surroundings.

● "Embodied Encounters" is a playful attempt to redefine consent as the process of establishing agreements, and how to communicate it beyond verbal exchanges.

● "Falling in Love with the World" is an exercise that directs the group to overcome a said aversion and extend notions of love and care to others or objects.

● "The Things You Do for Love" is a board game that invites players to think of love as a material need and commodity, while navigating the world of online dating.

● "Rehearsing Horizontalities" is a set of exercises to create scenarios where players re-examine their relationship with others by playing with their spatial, choreographic and acoustic awareness, all while maintaining a 'Horizontality Pact'.

● "Bad Mother" is a card game that critically —and most importantly satirically— scrutinizes the societal gaze for maternal love and domestic labor as well as the criterion of a 'Good Mother'.

● "Shivering Throats, Breaking Walls" plays on alternative notions of intimacy and encounter, ideas of presence and absence and unconventional modes of communication and exchange.

● "Total Body (Radiance)" is an invitation to understand radiance, experience new ways of relating to affect, affection, to interact with all living beings, and reconnect with our planet.

● "How to Fall in Love with a Machine" is a game where both players are provided with computer-generated moves that supposedly guide them to win the game 'Nim'.


The project is currently still in the works, only a couple of games have been tested and the others are still in progress. The intention is to publish a beta version of all nine positions/games/exercises online, following the logic of print/play at home in 2022.