HOW TO LOVE MANY
IN MANY WAYS

2021-22
a collection of games & exercises www.howtolovemanyinmanyways.com


in collaboration with
Engy Moshen
edited by Ismail Fayed,
visual identity by Engy Aly.
Contributors:
Eliana Otta
,
Ingo Niermann
(
The Army of Love
),
Mohamed Al-Bakeri
,
Nada Elkalaawy
,
Petra Mrša
,
Rania Atef
,
Raúl Hott
,
Shahd Omar
,
Soukaina Joual
How to Love Many in Many Ways
is an open-edition collection of games, exercises, and playful texts that depart from expanded notions of "love." Love is so big a concept that it can be grasped and interpreted in innumerable ways; it frames our relationships and the way we connect with ourselves and everyone and everything in our surroundings. Stemming from a ground belief that love is not a private matter and should be defined by multiplicity, contributors were invited to develop an exercise or game responding to the question: How to Love Many in Many Ways?
"My work as a cultural critic offered me a constant opportunity to pay close attention to everything the mass media, particularly movies and magazines, tell us about love. Mostly they tell us that everyone wants love but that we remain totally confused about the practice of love in everyday life"

Excerpt From
All About Love
bell hooks
workshop at Floating University, Berlin 2022

Nine contributors responded to that question. Coming from diverse disciplines and backgrounds, their responses range from the artistic, to the scientific, the somatic and the satirical:
● "How to Love Many in Many Ways" is a set of questions paired with rituals that invite you to start from loving and caring for the self, connecting with others, and being more attentive to more-than-humans in your surroundings.
● "Embodied Encounters" is a playful attempt to redefine consent as the process of establishing agreements, and how to communicate it beyond verbal exchanges.
● "Falling in Love with the World" is an exercise that directs the group to overcome a said aversion and extend notions of love and care to others or objects.
● "The Things You Do for Love" is a board game that invites players to think of love as a material need and commodity, while navigating the world of online dating.
● "Rehearsing Horizontalities" is a set of exercises to create scenarios where players re-examine their relationship with others by playing with their spatial, choreographic and acoustic awareness, all while maintaining a 'Horizontality Pact'.
● "Bad Mother" is a card game that critically —and most importantly satirically— scrutinizes the societal gaze for maternal love and domestic labor as well as the criterion of a 'Good Mother'.
● "Shivering Throats, Breaking Walls" plays on alternative notions of intimacy and encounter, ideas of presence and absence and unconventional modes of communication and exchange.
● "Total Body (Radiance)" is an invitation to understand radiance, experience new ways of relating to affect, affection, to interact with all living beings, and reconnect with our planet.
● "How to Fall in Love with a Machine" is a game where both players are provided with computer-generated moves that supposedly guide them to win the game 'Nim'.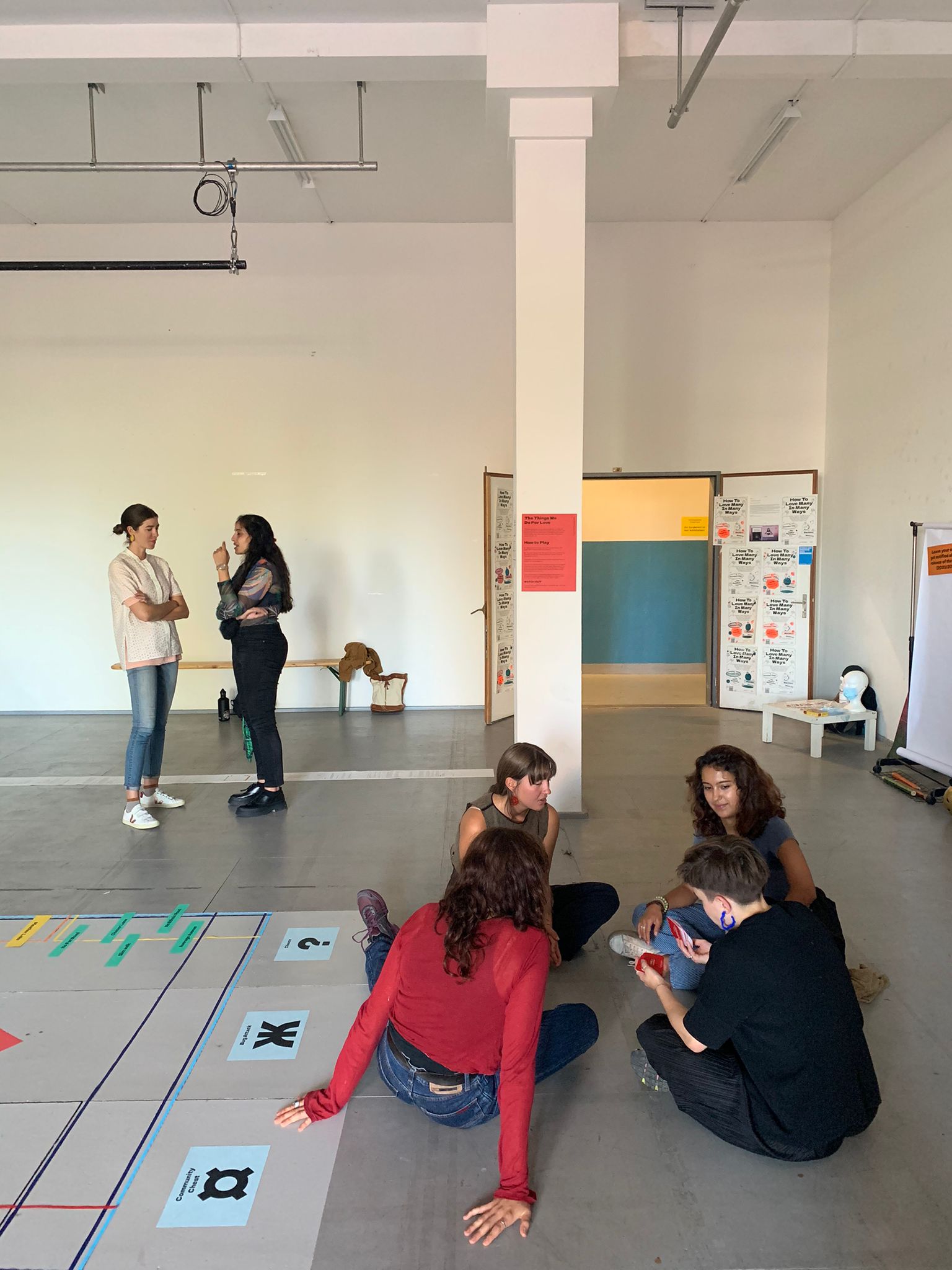 workshop at Rote Fabrik, Zurich 2021
workshop at school of commons, Zurich 2022